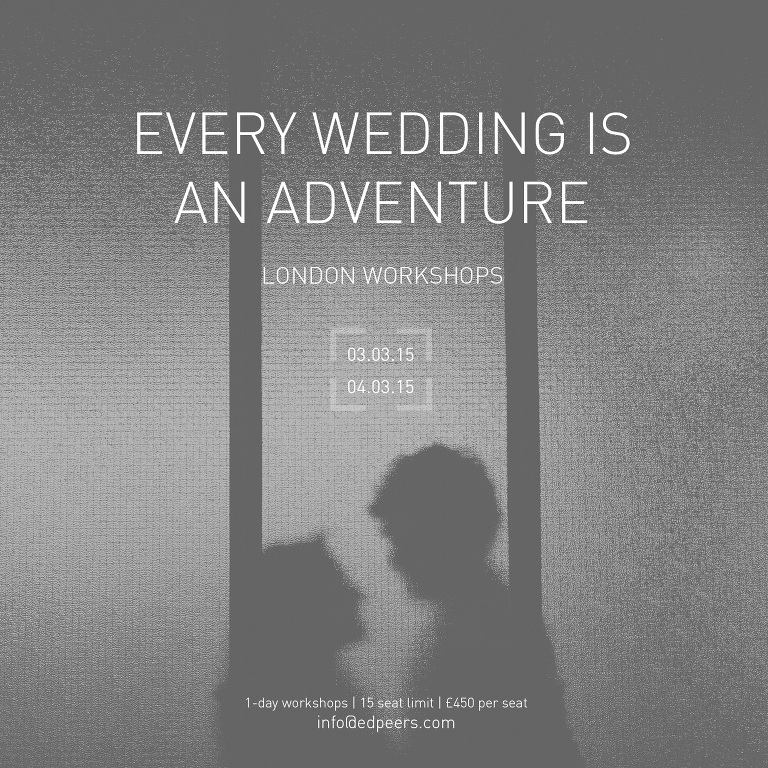 I'm super excited to announce wedding photography workshops in London this coming March.
There are two dates for seperate one-day workshops on the 3rd & 4th of March 2015, which will take place in the London area (exact venue to be confirmed) and will run from 9am to 6pm with lunch included. The evening will be open for everyone to stay and hang out for some good company, food and beverage.
The aim of the workshops is to create a relaxed forum that will cover all the things you want to know about. I'll share my journey and the things I've learnt along the way, with the aim of inspiring people to build a business they're passionate about. I've never been particularly business minded, but instead my story is one of following my passions and values – the fruit of which should be successful business and a balanced life. As well as be inspired, I also want people to leave equipped with something practical they can apply wherever they are along the road.
Topics will include: the importance of being unique, reaching your ideal clients, shooting for the story, destination weddings, developing an efficient workflow (from first contact right through to delivering to your clients), plus lots more. I want to show you how I keep things simple when it comes post-processing, encouraging you to nail your images in camera and improving your use and understanding of light and composition. The day will also include a shoot with real couple.
Seats on each day are limited to 15 and the cost per seat is £450 incl. VAT. Drop me an email at info [at] edpeers.com and I'll send you the info you need to reserve your spot. I'm not planning on making this a regular thing so don't hesitate if you're interested…